Bioworkshops received award as "Top Pharma Outsourcing Solution Providers in APAC 2021" again
Dec 29 , 2021
The manufacturing of biologics over the years has evolved significantly, resulting in the development of new multimeric antibody classes, much different from the earlier versions. The processes for manufacturing these new classes of antibody products are also different from those used historically and require new technology. Hence, the manufacturers and suppliers of pharma deliverables are presented with the challenge of keeping their costs down while rolling out finished biologics efficiently since it takes more money and time to produce and test new biotech substances. These challenges further intensify when there is an emergent need for a vaccine when a pandemic such as COVID-19 hits the world.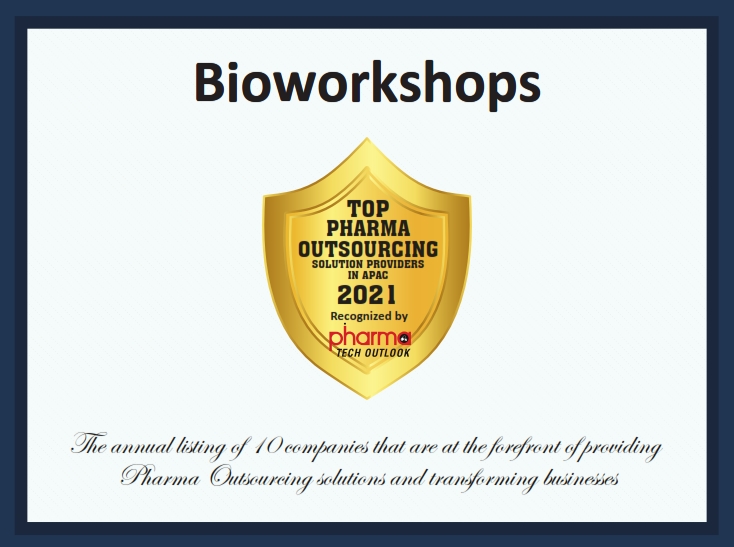 Bioworkshops focuses on helping customers develop multi-compendial cGMP (current good manufacturing practice)-compliant biologics in a short time. The China-based company has set up a strong contract development and manufacturing organization (CDMO) that offers a broad spectrum of services, including cell line development, cell culture process development, purification, formulation, analytical development, and cGMP manufacturing of drug substance and drug product all under one roof. During the COVID-19 outbreak, they were able to help their customer scale-up and manufacture batches of a novel antibody candidate to address the pressing need to combat the the impact of the pandemic has earned Bioworkshops significant recognition in the global CMC (Chemistry, Manufacturing and Control) sphere.
As a global player, Bioworkshops positioned itself as a trusted CDMO for antibody products. The company has been working on more than 10 CMC projects a year from both traditional and novel antibody classes. "What's happening within China's CDMO space, because of the changes in regulation of biologics and the demand for speed in development, has pushed us to innovate on the technological front," says Dr. Nick Kotlarski, COO of Bioworkshops. Another key differentiator for the company has been its ability to comply with international standards such as US FDA (Food and Drug Administration), EU EMA (European Medicines Agency) and China NMPA (National Medical Products Administration).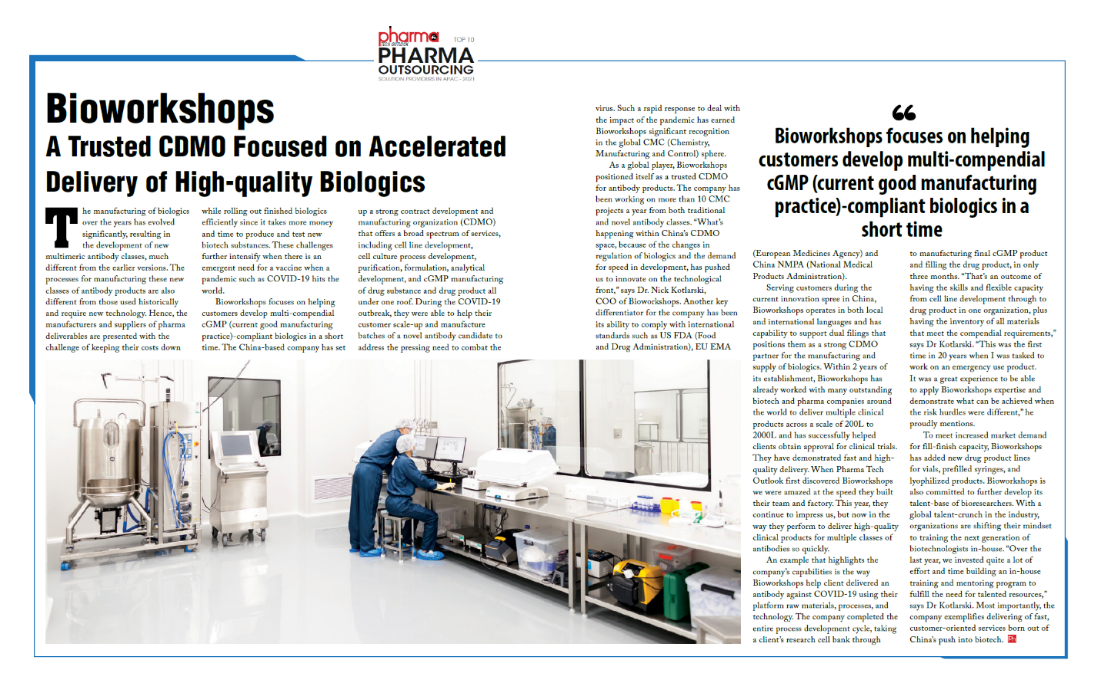 Serving customers during the current innovation spree in China, Bioworkshops operates in both local and international languages and has capability to support dual filings that positions them as a strong CDMO partner for the manufacturing and supply of biologics. Within 2 years of its establishment, Bioworkshops has already worked with many outstanding biotech and pharma companies around the world to deliver multiple clinical products across a scale of 200L to 2000L and has successfully helped clients obtain approval for clinical trials. They have demonstrated fast and high-quality delivery. When Pharma Tech Outlook first discovered Bioworkshops we were amazed at the speed they built their team and factory. This year, they continue to impress us, but now in the way they perform to deliver high-quality clinical products for multiple classes of antibodies so quickly.
An example that highlights the company's capabilities is the way Bioworkshops help client delivered an antibody against COVID-19 using their platform raw materials, processes, and technology. The company completed the entire process development cycle, taking a client's research cell bank through to manufacturing final cGMP product and filling the drug product, in only three months. "That's an outcome of having the skills and flexible capacity from cell line development through to drug product in one organization, plus having the inventory of all materials that meet the compendial requirements," says Dr Kotlarski. "This was the first time in 20 years when I was tasked to work on an emergency use product. It was a great experience to be able to apply Bioworkshops expertise and demonstrate what can be achieved when the risk hurdles were different," he proudly mentions.
To meet increased market demand for fill-finish capacity, Bioworkshops has added new drug product lines for vials, prefilled syringes, and lyophilized products. Bioworkshops is also committed to further develop its talent-base of bioresearchers. With a global talent-crunch in the industry, organizations are shifting their mindset to training the next generation of biotechnologists in-house. "Over the last year, we invested quite a lot of effort and time building an in-house training and mentoring program to fulfill the need for talented resources," says Dr Kotlarski. Most importantly, the company exemplifies delivering of fast, customer-oriented services born out of China's push into biotech.