Webinar Preview | Key development strategies of bispecific antibodies
Nov 26 , 2021

Website of the conference
The 2021 bioSeedin Annual Conference & 3rd Biopharmaceutical Developer Innovation Conference were successfully held at the Himalayas Art Museum in Shanghai on 23-24 November. Both days drew a large crowd of delegates and experts from the biopharmaceutical industry to discuss technical and practical cases.
On the first day of the meeting, Dr. Alex Zhu, Director of Cell Culture at Bioworkshops, gave an invited presentation on the topic of "Bispecific Antibody Process Development and Production Scale-up". He discussed the key points of concern and development strategies at different stages of bispecific antibody process development (CLD, upstream and downstream processes), and explained strategies to develop products that consistently meet quality requirements.
Growing numbers of bispecific and multi-specific antibodies can be seen in the research and development pipelines of major biotechnology companies. However, from initial identification to final drug product, there are many challenges in production and quality control for these engineered molecules. How to rationally develop the production process to effectively control their quality has become a key challenge for development of multi-specific antibody products.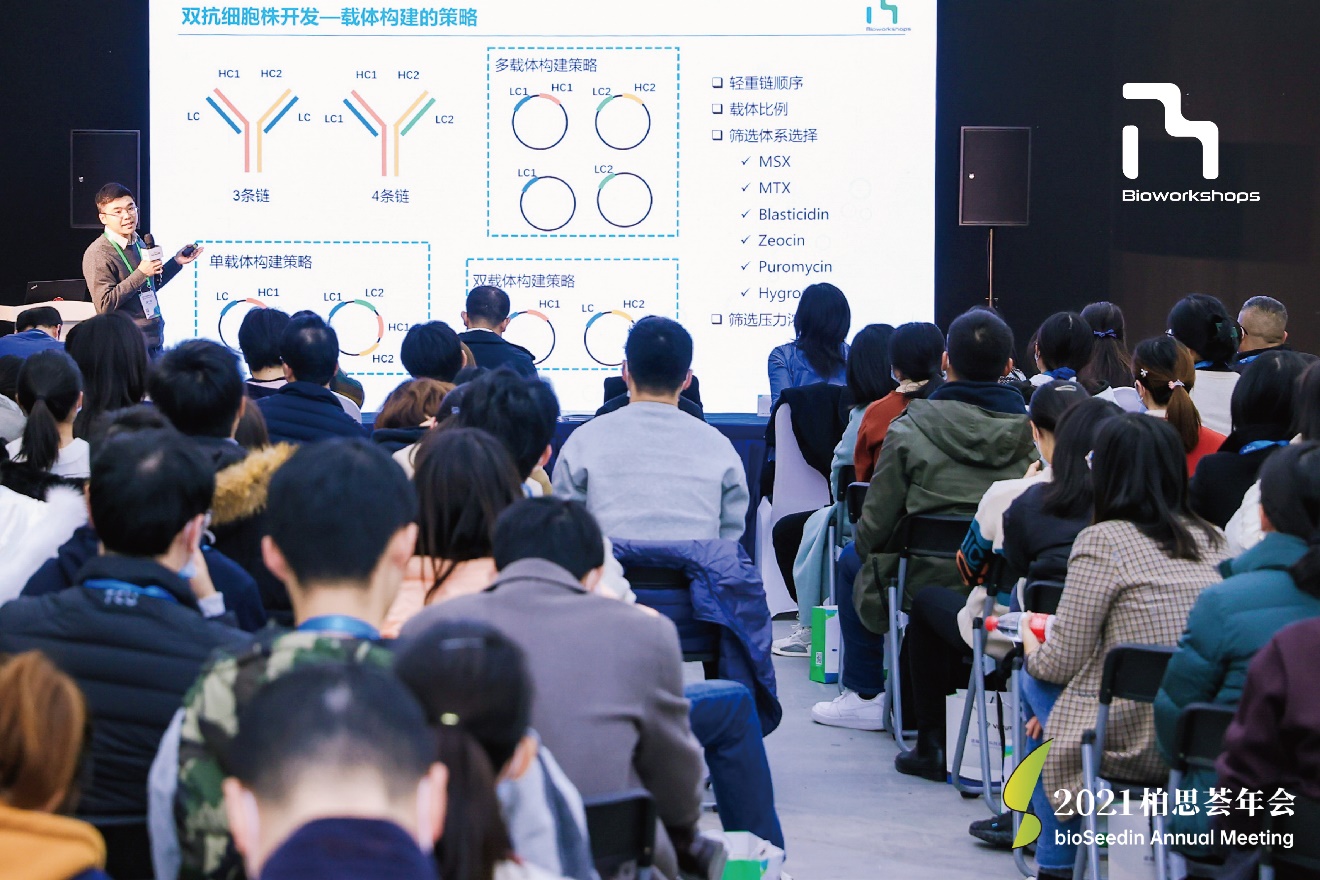 Dr. Zhu provided an overview of the multiple structural configurations of bispecific antibodies,. The proportion of correctly assembled antibody and translational modifications produced by each antibody configuration differs at the expression level, so the development strategies for candidate molecules must take this into account. The analysis of bispecific antibody expression is not only to measure correct assembly, but also to judge whether the antibody is suitable for from the aspects of stability under reducing and non-reducing conditions as well as the standard glycosylation issues.
Biological activity, reduced and non-reducing molecular weight, charge isomerization, glycan pattern, expression level, cell growth and metabolism are all factors that need to be considered in the cell line development to improve the expression level of the target molecule. For bispecific antibodies, the ultimate development purpose is not only to optimize the level of expression, but also to reduce the formation of incorrectly assembled structures while assuring scalability and robustness of the process. In practice, critical process parameters to consider are temperature switching, media screening, and other changes in the physical or chemical environment.
Bioworkshops has constructed a number of bispecific antibody cell lines and developed reliable, scalable production processes. Our rich experience in the process development and production of bispecific antibodies will help clients shorten the development cycle and rapidly advance their candidates to the clinic with robust processes and efficient production.